Do you struggle to organise your Outlook Inbox? You've probably seen flags and colour categories whilst sorting through emails, but have you ever tried using these features to keep on top of your messages?
Try taking 10 minutes to read through this handy guide and think about how these features could help you prioritise your actions and organise your inbox.
This is how they work:
Set a Follow Up flag
1. Select the email message.
2. Select the

The flag turns red and a Follow up message appears in the header of the email message.

Note: Follow Up flags are used for actionable items only.
View all Follow Up Flags
1. Select View >To-Do Bar >Tasks.

2. The To-Do Bar pane opens and shows all flags.
Remove a Follow Up Flag
1. Right-click the email message.
2. Select Follow Up > Mark Complete.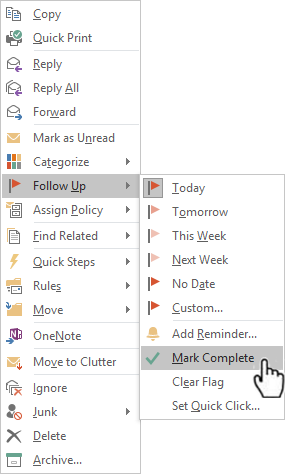 The Follow Up Flag changes to a green checkmark and is removed from the To-Do Bar.
Set a Reminder
1. Select the email message for which you want to set the reminder.
2. Select Home >Follow Up > Add Reminder.
3. In the Custom box, for Flag to, select Follow up or type a description.
4. Check the Reminder box, enter date and time, and then select OK.
An alarm bell

icon will appear on the message.
5. To change the time for the reminder, select Follow Up, select Add Reminder, edit the time, and then select OK.
Find an Action Item
1. If Outlook finds something in an email that looks like an action item, an Action items tab automatically appears on the reading pane.
2. Select the Action Items drop-down arrow to read the action item, and then select FOLLOW UP if you'd like to set a Follow Up Flag to remind you to do that action item.
Note: If you select FOLLOW UP, the action item displays in the To-Do Bar pane.
3. When the task is done, mark it complete.
From the Action Items drop-down, select Mark Complete, or
In the To-Do Bar pane, right-click the flagged message and select Mark Complete.
Create colour categories
1. Select Home > Categorize > All Categories.
2. To Rename a category colour, in the Colour Category box, select a colour category, and then select Rename. Type an appropriate name for the selected category, and then press Enter.
3. To change the category Colour, select the colour you want from the Colour drop-down .
4. To create a New colour category, select New, type a name, select a colour, and select OK.
5. When you are done with Colour Categories, select OK.
Assign an email a colour category
1. Right-click an email message.
2. Select Categorize, and then select an appropriate colour category for the message.