Microsoft has announced that we will all be able store our most personal information and files in a new area of OneDrive that has extra layers of security.
OneDrive Personal Vault can only be accessed "with a strong authentication method or a second step of identity verification", such as your fingerprint or face recognition on certain mobile devices, a PIN or a code sent to you via email or text message, the company said. Personal Vault can also be unlocked with the Microsoft Authenticator app.
The owner of the OneDrive can securely use one of these methods to get to their files without having to remember complicated passwords.
Pictures, videos and scanned documents can be uploaded via the OneDrive app straight into Personal Vault, keeping those personal files away from less secure areas of your device.
OneDrive runs on the trusted Microsoft Cloud, which has many security measures in place to keep your files safe," said Seth Patton, General Manager of Microsoft 365. "But we understand that some people want more protection for their most important and sensitive files, which is why we are introducing Personal Vault.
"Your locked files in Personal Vault have an extra layer of security, keeping them more secured in the event that someone gains access to your account or your device. Plus, this added security doesn't mean added inconvenience. All your documents, photos and videos in Personal Vault are easy to access on Onedrive.com, your PC or capable devices."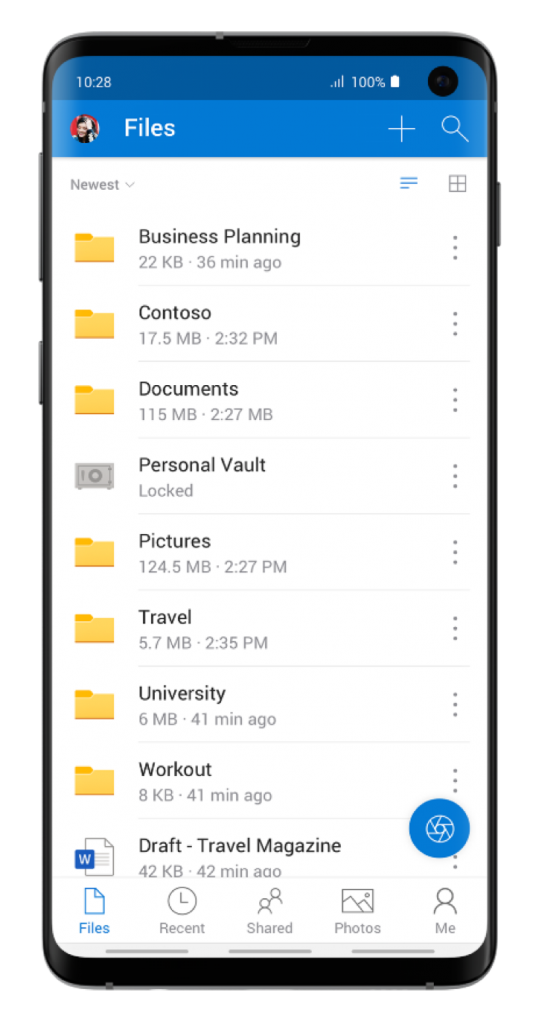 Personal Vault, which will be available to everyone by the end of the year, will also automatically relock on your PC, device or online after a short period of inactivity. Once locked, any files you were using will also lock and require reauthentication to access. On Windows 10 PCs, OneDrive also syncs your Personal Vault files to a Bitlocker-encrypted area of your local hard drive.
OneDrive currently encrypts files when they are being stored in the cloud or sent to your device, monitors suspicious activity, detects ransomware, notifies users of mass file deletions and recovers data, scans for virus during downloads and lists a version history for all file types.
Microsoft is also increasing the amount of storage in the OneDrive standalone plan from 50 GB to 100 GB for the same price per month. That's enough space to store over 50,000 pictures (at 2MB per photo). Patton said the new plan "is perfect for automatically backing up your phone's camera roll and scanning and saving documents, receipts, and more right from your phone".