When you've been using the same Microsoft Office applications for years, it's easy to stick to the same old habits. But with Office 365, Microsoft is trying to challenge that way that businesses work.So are you a big fan of Word, Excel, PowerPoint, OneNote, Publisher or Outlook? Do you often use Skype for Business, and OneDrive or SharePoint? Below are a few tips on some modern Office features that can help your business compete more efficiently in today's tough market
1. Real-time co-authoring (Word, Excel, PowerPoint)
Collaborate on documents online and see your colleagues' changes as they happen. With real-time co-authoring in Word and other applications you can save your files to OneDrive or SharePoint so that other users can help you edit them.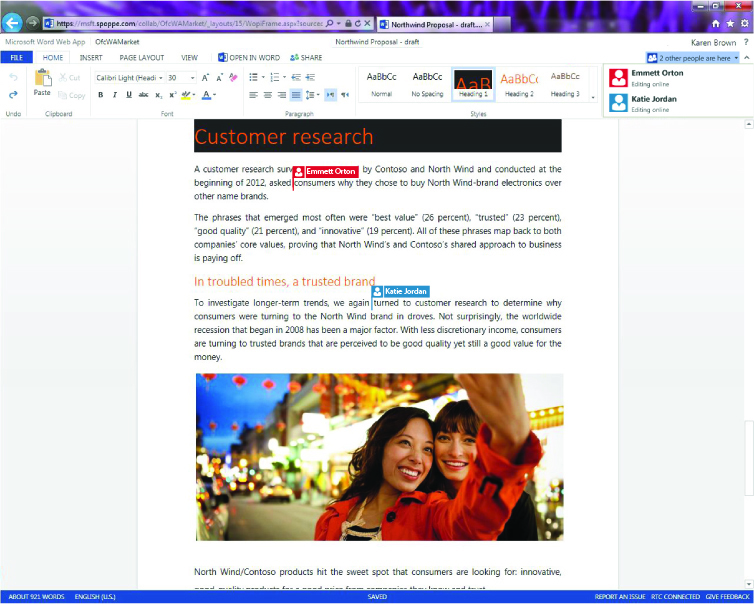 2. Chat with co-workers in Office apps
Skype in-app integration in Office 365 allows you to chat, share screens and have audio or video conversations with your co-workers. What's more, you don't need to leave the application you're using.
3. 50GB of email storage
Each user gets 50GB of storage with Exchange Online for email, calendar, tasks, notes, contacts and attachments. You can save more space in your mailbox by using the OneDrive cloud storage to share attachments.
 4. Turn OneNote items into Outlook calendar events
The OneNote application gathers and organises users' notes (either handwritten or typed), drawings, screen grabs and audio commentaries. These notes can then be converted to tasks inside your calendar and assigned to colleagues with reminders and deadlines.
5. Using your mouse as a laser pointer for PowerPoint presentations
A simple keyboard shortcut (Ctrl+P) turns your mouse into a laser pointer for PowerPoint presentations. This feature has actually existed for years but has now been integrated for touch-screen devices. Just hold your finger or stylus down on the device and see the red button fake laser pointer appear.
6. Editing and converting to PDF made easy
Finished editing your document, spreadsheet, presentation or publication? Converting it to a PDF is made simple with the Save as PDF integrated feature. If you want to edit a PDF, you can convert it into a Word document without the formatting issues that come with copy-pasting or editing.
7. Resume Reading your Word documents
The Resume Reading feature in Word allows you to pick up where you left off, even on different devices! Word automatically bookmarks the last page you were reading!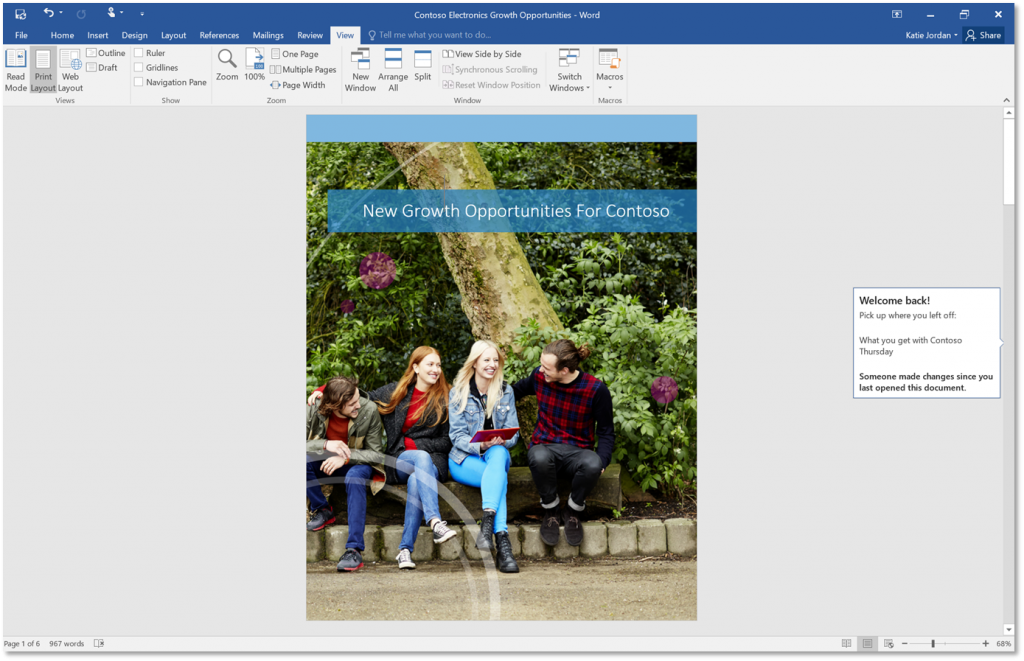 8. Retrieving the right version of a document
Version control has been improved with Office 2016 co-authoring. You can see which changes were made, by whom and when. You can also revert back to a previous version of the file if necessary.
9. Working offline and uploading changes later
Your OneDrive storage is synced to your device, so you can choose to work offline on files. As soon as you reconnect to Internet, the new versions will be automatically uploaded to your storage. The new version will also be sent to any other connected device.
1o. Working anywhere from any device
Here is the very crux of Office 365 – you can work from any location on any device. Your Office 365 subscription includes the Office Web Apps, so you can work on your cloud files from any web-connected browser. You can also download smartphone and tablet apps, enabling you to use Word, Excel, PowerPoint, Outlook and OneDrive directly from your mobile device.